18,000+ Agencies
Agency/Multi-Account plans are perfect for multi-brand enterprises, for agencies managing many talents, or for influencers and entrepreneurs working on several projects.
One Panel &
Multiple Influencers
Manage all your talents from a single panel. Create their custom urls and manage their links on their behalf.
Access their statistics at any time and optimize conversion on sponsored posts.
Sign up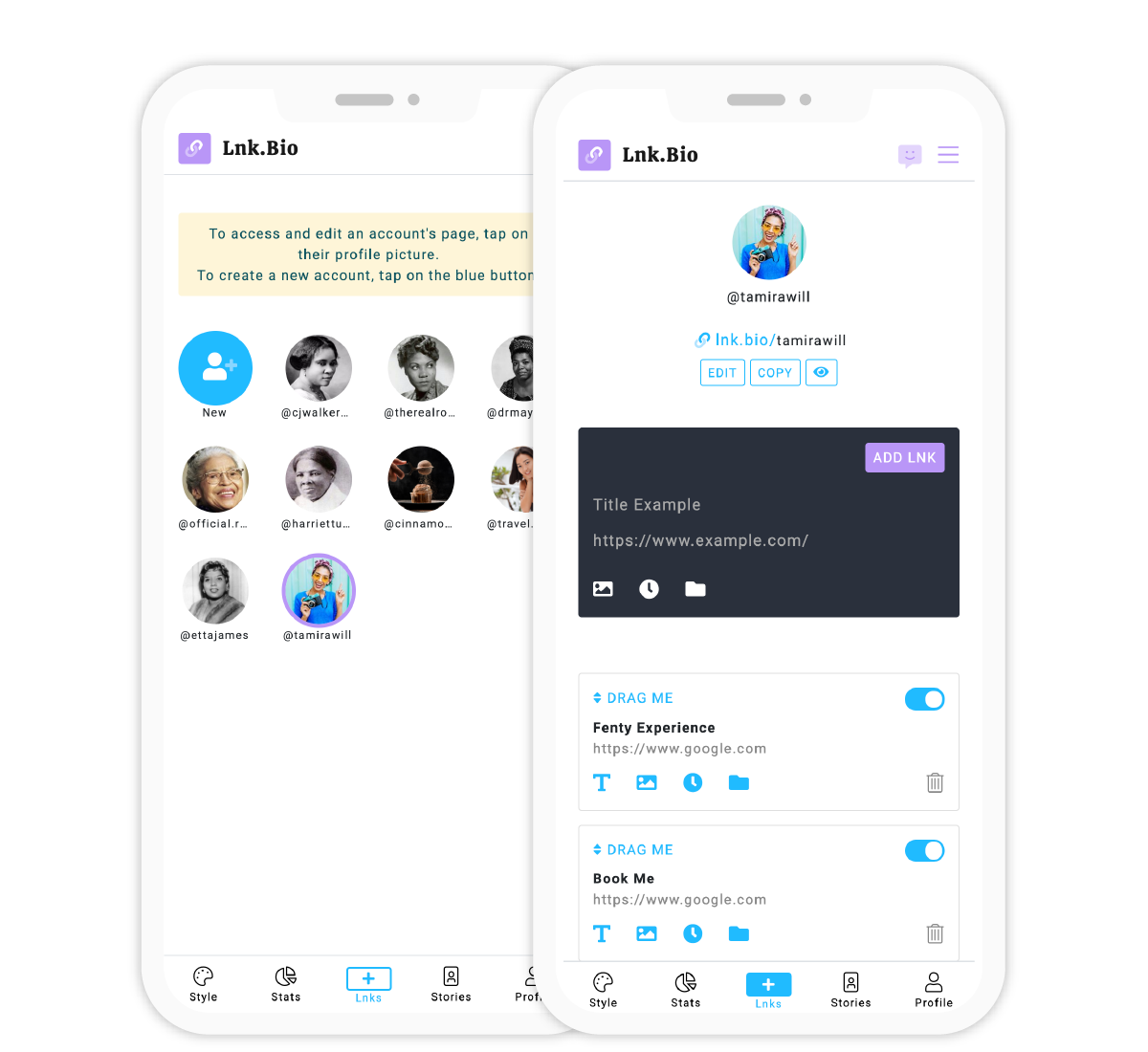 Features
Multiple Accounts
Manage all your Influences from a single panel
Unlimited Links
Add as many links as you wish, change them as often as you want.
Statistics
Access each Influencer's statistics and optimize their account.
Safe
No need to login via Instagram, we never ask for your Influencers' password.
Customize the urls
Offer professional-looking customized urls to your talents.
Web-based
No need to install anything, just access anytime via browser from any device.
700,000+ Creators
The top creators and brands in the world use Lnk.Bio
Agency or Multi-Account Pricing
Lnk.Bio has the cheapest plans on the market 💜
Monthly
Annual
Save up to $170
Basic
Custom username (URL)
Custom username (URL)
Unlimited Lnks
Add as many Lnks as you want
Embed Music & Videos
Play Music and Videos in your page
Add a Map
To locate your business or event
Zapier integration
Connect with 5000+ apps
WordPress integration
Automated Lnk posting
No Extra Cost
FREE, no hidden costs
3 Pages
Split content into 3 swipeable pages
Mini
Custom username (URL)
Custom username (URL)
All from the Free plan
All the features from the Free plan
Schedule Lnks
Create your posting schedule
Lnk Groups
Categorize Lnks into groups
Password-protected Lnks
Protect your Lnks with a password
Stats & Reports
See how much traffic you have
External Pixels
Facebook, Google Analytics, TikTok, Snapchat
Instagram & TikTok Sync
Import posts from IG and TikTok
Mirror IG Grid
Recreate the IG Grid on Lnk.Bio
27 Layouts
List, Grid, Titles, Image only, etc...
5 Pages
Split content into 5 swipeable pages
Unique
Custom username (URL)
Custom username (URL)
All from the Mini plan
All the features from the Mini plan
Newsletter
Collect mailing list subscriptions
Contact form
Generate leads and appointments
Open your Shop
Sell digital products
No Lnk.Bio Logo in profile
No Logo in your Public Profile
Colors & Fonts
Infinite colors, transparency & 113 fonts
Wallpaper & Favicon
Add a custom wallpaper and favicon
Images/Banners
Add custom graphics outside your Lnks
Instagram Post Scheduler
Schedule Instagram posts from Lnk.Bio
10 Pages
Split content into 10 swipeable pages
Multiple Logins
Separate access for your colleagues
All prices are in USD.